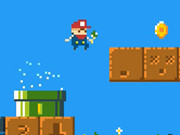 1985
Kategori :
Atış
Notlar :
(0)
---
Açıklama :
1985 is an excellent platform game. Follow our brave hero to start his gorgeous adventure! On the road with many evil monsters and dangerous obstacles, only the most intelligent and brave people can pass. Control tasks jump and move on the platform, the more coins you collect, the better. Jump up or shoot monsters to defeat them. You will face difficult challenges never before! Do you dare to accept the task? How long can you go? Good luck and have fun!
Anahtar Kelimeler :
Skill, Shooting, Retro, Platform, Pixel, Obstacle, Monster, Kids, Jumping, HTML5, Highscore, Collecting
Kontrol :
AD or left/right arrow to move. W or up arrow or spacebar to jump. X/J/ctrl to Shoot.
Yazar :
nosite.com
---
Yorumlar
Yorum yazmak için lütfen giriş yapın veya kayıt olun.