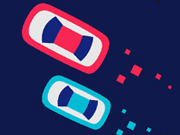 2cars Adventure
Kategori :
Macera
Notlar :
(0)
---
Açıklama :
2cars Adventure is a two-car driving game. In this game, you need to challenge to control the driving of two cars. These two cars are on the road, and there are many obstacles on the road. You need to avoid them and change the road. You also have to collect the gas on the road and get a higher score. You have to quickly react and focus on the cars. Come and play. Have fun and good luck.
Anahtar Kelimeler :
Obstacle, Kids, HTML5, Highscore, Driving, Collecting, Car, Boy, Avoid, Android, Adventure, Hair
Kontrol :
Tap on screen on mobile phone and mouse click on PC.
Yazar :
yiv.com
---
Yorumlar
Yorum yazmak için lütfen giriş yapın veya kayıt olun.