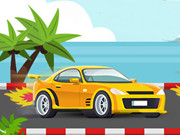 2D Car Racing
Kategori :
Sürüş
Notlar :
(0)
---
Açıklama :
This is a car racing game suitable for boys to play with their friends. The difficulty of the game is that you need to drive your car on the curved road and collect the scattered items on the road that will work for your game. I believe that your amazing driving skills can help you complete this contest! Good luck and enjoy this game!
Anahtar Kelimeler :
Skill, Racing, Kids, HTML5, Driving, Collecting, Car, Boy, Avoid, 2 Player
Kontrol :
Use keyboard to control.
Yazar :
g2k.co
---
Yorumlar
Yorum yazmak için lütfen giriş yapın veya kayıt olun.