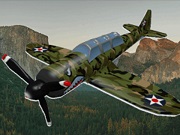 3D Airplane Race Simulator
Kategori :
Diğer
Notlar :
(0)
---
Açıklama :
3d Airplane Race Simulator is a fun air flight simulation game. Use the mouse to control the flight direction. Try flying your airplane through the rings to complete different levels. As you progress in the game you unlock new and cool airplanes with which you can do even more cool tricks. Can you complete all 20 levels and show that you have what it takes to be a great pilot?
Anahtar Kelimeler :
Simulation, Racing, Plane, HTML5, Highscore, Flight, Boy, Avoid, Aircraft, 3D, GameDistribution
Yazar :
adogames.com
---
Yorumlar
Yorum yazmak için lütfen giriş yapın veya kayıt olun.