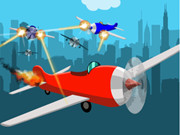 Airplane Battle
Kategori :
Atış
Notlar :
(0)
---
Açıklama :
Feeling boring now? have a try about this little plane fighting game, with clean graphics, music, and simple operation, you can control your airplane move up and down to shoot other planes, be careful when there are enemies behind you or going to crash on you, it may kill you very soon. keep an eye on your health bar, the game will be over when you run out of your blood. Have fun!
Kontrol :
Use the up and down arrow button to play.
Yazar :
nosite.com
---
Yorumlar
Yorum yazmak için lütfen giriş yapın veya kayıt olun.