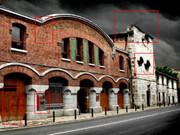 Amazing Spain Differences
Kategori :
puzzle
Notlar :
(0)
---
Açıklama :
Amazing Spain Differences is a kind of newly developed finding difference puzzle game. Spot all the differences between the two pictures of amazing Spain within the giving time. The faster, the higher of the scores. Good luck!
Anahtar Kelimeler :
Timing, Skill, Puzzle, Kids, HTML5, House, Highscore, Difference, Brain, Boy, GameDistribution
Kontrol :
Mouse interaction.
Yazar :
frivclub.com
---
Yorumlar
Yorum yazmak için lütfen giriş yapın veya kayıt olun.