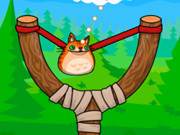 Angry Cat Shot
Kategori :
Fizik
Notlar :
(0)
---
Açıklama :
Do you like the hot game angry birds? His friend angry cat inherited his unfinished mission and embarked on a slingshot tour. Tap and hold the cat to launch it. Your mission is to pass through the rings and collect stars. Remember to avoid hitting the ring or you will lose. Can you complete all levels and get a high score? Have fun!
Anahtar Kelimeler :
Physics, Launch, HTML5, Highscore, Collecting, Cat, Boy, Avoid, Animal, Android
Kontrol :
Use the mouse or slide the screen to play
Yazar :
yiv.com
---
Yorumlar
Yorum yazmak için lütfen giriş yapın veya kayıt olun.