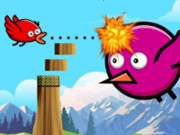 Angry Flappy Wings
Kategori :
Atış
Notlar :
(0)
---
Açıklama :
Try this enhanced version game called Angry Flappy Wings, you can not only jump through the woods but also shoot the tree down and fight your own way off, pick up the items to strengthen your bullets, you can even shoot bombs to blow your way out, there will be a monster bird after a few trees, you need to shoot it down to keep going forward. Call your friends and try the 2 players mode, fight together to hold longer in this game. Have fun!
Anahtar Kelimeler :
Skill, Shooting, Obstacle, Killing, Kids, Jumping, HTML5, Highscore, Collecting, Boy, Bomb, Bird
Kontrol :
Z or lift click to jump for 1 player mode, Z/N to jump for the 2 players mode.
Yazar :
famobi.com
---
Yorumlar
Yorum yazmak için lütfen giriş yapın veya kayıt olun.