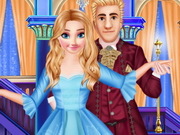 Anna And Kristoff's Prefect School Day
Kategori :
Spor
Notlar :
(0)
---
Açıklama :
How did Anna spend the day at school? She will change her sportswear to her favorite physical education class. Then attend the rehearsal of the school drama club in the afternoon. She will perform classic drama with Christopher: Romeo and Juliet! If you are interested in this, join the game and experience the school's course with Anna!
Anahtar Kelimeler :
Sports, School, Princess, Movie, Kids, HTML5, Girl, Frozen, Dress Up, Disney, Design, Decorate, Cartoon,
Kontrol :
Tap on the screen on mobile phone and mouse click on PC.
Yazar :
babygames.com
---
Yorumlar
Yorum yazmak için lütfen giriş yapın veya kayıt olun.