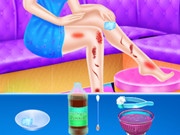 Anna Bathroom Accident
Kategori :
girl
Notlar :
(0)
---
Açıklama :
Anna is injured when she cleans the bathroom, she is so hurt and she really needs your help. Give her a first-aid using the tools in their room. It's an important job because she is all depending on you. Hope you can help her, she and Elsa will be so grateful to you. Have fun!
Anahtar Kelimeler :
Surgery, Room, Princess, Movie, Kids, Girl, Frozen, Elsa, Doctor, Disney, Cleaning, Cartoon, Android
Kontrol :
Mouse or tap to play
Yazar :
babygames.com
---
Yorumlar
Yorum yazmak için lütfen giriş yapın veya kayıt olun.