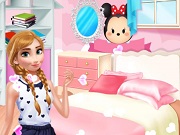 Anna's First Room Design
Kategori :
girl
Notlar :
(0)
---
Açıklama :
Anna is so glad that she has her own house. Today we will help Anna to decorate her bedroom. She wants to make her room lovely and fashion. There are baby pink themes, lavender themes, and mint green themes. Which one do you prefer? Please design a warm room for Anna.
Anahtar Kelimeler :
Room, Princess, Kids, HTML5, Hello Kitty, Girl, Frozen, Fantasy, Disney, Design, Decorate, Cute, Cartoon,
Yazar :
yiv.com
---
Yorumlar
Yorum yazmak için lütfen giriş yapın veya kayıt olun.