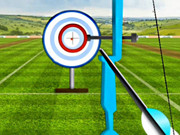 Archery Training
Kategori :
Diğer
Notlar :
(0)
---
Açıklama :
If you are an archery enthusiast, you will like this fun game. You only need to focus your attention on the target. The more rings you hit, the better. As the game upgrades, the challenge will become more and more difficult, and the target will be farther and farther. It's easy to get started but hard to monster. You can train your archery skills by playing this game. Enjoy this game!
Anahtar Kelimeler :
Skill, Relaxation, Launch, Kids, HTML5, Boy, Bow, Android, GameDistribution
Kontrol :
Use mouse to play.
Yazar :
kiz10.com
---
Yorumlar
Yorum yazmak için lütfen giriş yapın veya kayıt olun.