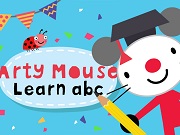 Arty Mouse Learn Abc
Kategori :
Eğitim
Notlar :
(0)
---
Açıklama :
Arty Mouse is back with a new game! Work with cute characters from the Arty Mouse universe. Teach toddlers to trace alphabets from A to Z. And help them recognize letter shapes and associate them with phonic sounds. Suitable for toddlers, preschool and kindergarten kids.
Anahtar Kelimeler :
Letters, Kids, Educational, Drawing, Cute, Brain, Baby, Animal, Paint, GameDistribution
Yazar :
marketjs.com
---
Yorumlar
Yorum yazmak için lütfen giriş yapın veya kayıt olun.