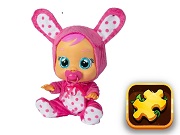 Baby Doll Jigsaw
Kategori :
Yapboz
Notlar :
(0)
---
Açıklama :
Baby Doll Jigsaw is an online game that you can play for free. If you are a baby doll entusiast or like a jigsaw puzzle, don't miss this jigsaw game. The game contains 12 pictures to choose from, the game difficulty is divided into low, medium and high. You are free to enjoy your puzzle time because the game has no time limit. Have fun with Jigsaw Puzzles.
Anahtar Kelimeler :
Puzzle, Matching, Kids, Jigsaw, HTML5, Cute, Baby, Android, GameDistribution
Yazar :
video-igrice.com
---
Yorumlar
Yorum yazmak için lütfen giriş yapın veya kayıt olun.