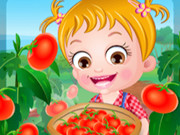 Baby Hazel Tomato Farming
Kategori :
girl
Notlar :
(0)
---
Açıklama :
Can you help Baby Hazel in tomato farming? Firstly, help her in understanding the stages of tomato farming. Then help her in making tomato seeds suitable for growing plants. Join her to pick the tools and supplies required for tomato farming. Finally, go along with Baby Hazel to her kitchen garden and help her in performing tomato farming activities. Have fun!
Anahtar Kelimeler :
Timing, Plant, Kids, HTML5, Girl, Farm, Educational, Cute, Baby Hazel, Baby, House, Room
Kontrol :
Mouse or tap to play.
Yazar :
babyhazel.com
---
Yorumlar
Yorum yazmak için lütfen giriş yapın veya kayıt olun.