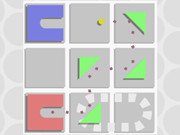 Ball Way
Kategori :
puzzle
Notlar :
(0)
---
Açıklama :
Ball Way is a fun puzzle game. In this game, the ball is lost, can not find the way back, can you help it? There are obstacles on the road, you have to think about how to move the obstacles and bounce the ball into the door. In addition, you need to collect keys on the road. The ball into the door, you win and start to next level. There are 20 levels in the game and challenge it. Have a good time.
Anahtar Kelimeler :
Skill, Puzzle, Obstacle, Kids, HTML5, Collecting, Brain, Boy, Bounce, Ball, Android
Kontrol :
Use the mouse to play.
Yazar :
yiv.com
---
Yorumlar
Yorum yazmak için lütfen giriş yapın veya kayıt olun.