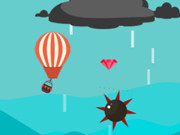 Balloon Crazy Adventure
Kategori :
Macera
Notlar :
(0)
---
Açıklama :
It is well-known that the balloon is fragile. The balloon takes a crazy adventure now. You need to protect it from being broken by the obstacle in the sky. Control the balloon to go up and down with the wind. If the balloon lands safely, you can enter to the next level. How many levels can you clear in the sky? Can you come to the sea world level? Enjoy Balloon Crazy Adventure.
Anahtar Kelimeler :
Skill, Obstacle, Kids, HTML5, Gold, Collecting, Boy, Balloon, Avoid, Android, Adventure
Yazar :
dob5.com
---
Yorumlar
Yorum yazmak için lütfen giriş yapın veya kayıt olun.