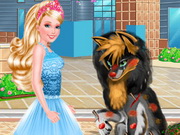 Barbie With Little Wolfhound
Kategori :
girl
Notlar :
(0)
---
Açıklama :
Princess Barbie is walking on the street, an injured wolfhound catches her eye, the wolfhound looks so painful and ill, she decided to help it. After dealing with the wound, this wolfhound looks much more handsome than before. suddenly, a shining light makes Barbie can't open her eye, when she finally can see, that wolfhound, turned into a handsome boy! It appears that there's a witch who turned him into a wolfhound. Barbie falls in love with him quickly, three months later, they decided to get married, please help Princess Barbie find the best wedding outfit, Enjoy Barbie With Little Wolfhound!
Kontrol :
Use the mouse to play.
Yazar :
yiv.com
---
Yorumlar
Yorum yazmak için lütfen giriş yapın veya kayıt olun.