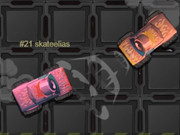 Bassdrop.club
---
Açıklama :
Bassdrop.club is a driving game in which you are competing against other online players in a game that will test your abilities to react and think quickly. In the game, you should avoid these holes in case destroy the tank. The game may be a little difficult at first, and you need to master the skills and play more times. Come and challenge it. Have fun and enjoy the game!
Anahtar Kelimeler :
Tank, Skill, Obstacle, Multiplayer, Launch, Kids, HTML5, Driving, Boy, Avoid
Kontrol :
Left click to shoot,Right click to jump.
Yazar :
erigato.space
---
Yorumlar
Yorum yazmak için lütfen giriş yapın veya kayıt olun.