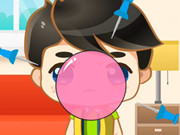 Biggest Gum
Kategori :
Arcade
Notlar :
(0)
---
Açıklama :
Biggest Gum is a challenging game. Players need to tap the button on the screen to blow gums. On the one hand, the size of the chewing gum must be greater than ninety percent of the shape given. On the other hand, you can't touch the nails, or your bubble gum will be punctured. This game is simple but fun, it is suitable for killing time. Don't hesitate to join this game, you will love it!
Anahtar Kelimeler :
Timing, Skill, Relaxation, Matching, Kids, HTML5, Boy, Arcade, Android, Bubble
Kontrol :
Use the mouse to play.
Yazar :
yiv.com
---
Yorumlar
Yorum yazmak için lütfen giriş yapın veya kayıt olun.