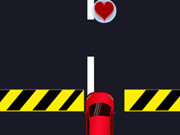 Carrace
---
Açıklama :
Car race is a racing game. The car is on the road, you need to collect little hearts, when your little red heart is gone, the game will be over. On the road, there will be obstacles and avoid obstacles. Each level must pass a fixed number of obstacles before entering the next level. Getting the high score and Have fun.
Kontrol :
Use the mouse to play.
Yazar :
tigerstudiobg.com
---
Yorumlar
Yorum yazmak için lütfen giriş yapın veya kayıt olun.