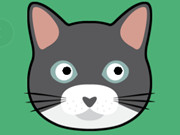 Catmouse.Io
---
Açıklama :
Catmouse.Io is a multiplayer online game. You can choose a cat or a mouse. The goal is to defeat the enemy, collect food, and expand the team. If you choose a cat, collect fish. If you are a mouse, collect cheese. Have fun.
Anahtar Kelimeler :
Multiplayer, Kids, HTML5, Highscore, Food, Fish, Collecting, Cat, Boy, Animal, .io
Kontrol :
Mouse = move, Left click = attack, Right click = unite members.
Yazar :
silvergames.com
---
Yorumlar
Yorum yazmak için lütfen giriş yapın veya kayıt olun.