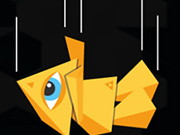 Celestial Fall
---
Açıklama :
This little guy needs to jump to the ground from a hill. There are many holes on the mountain, you need to avoid them or you will fall down and fail. Collect useful items to go further. Enjoy Celestial Fall!
Anahtar Kelimeler :
Kids, HTML5, Highscore, Boy, Avoid, Arcade, Android, Adventure
Yazar :
wanted5games.com
---
Yorumlar
Yorum yazmak için lütfen giriş yapın veya kayıt olun.