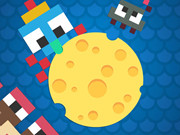 Cheesy Wars
Kategori :
Defans
Notlar :
(0)
---
Açıklama :
In the game, your mission is to protect your cheese from being eaten by the enemies. On the one hand, you can destroy the creatures by clicking on the screen constantly. On the other hand, use powerful props to stop them from getting close to the cheese. Do you have the confidence to block all enemies? How many levels can you successfully pass? Jumpr Online is waiting for you!
Anahtar Kelimeler :
War, Relaxation, Kids, HTML5, Food, Defense, Boy, Bomb, Avoid, Android
Kontrol :
Use your mouse to play.
Yazar :
yiv.com
---
Yorumlar
Yorum yazmak için lütfen giriş yapın veya kayıt olun.