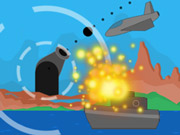 Def Island!
Kategori :
Arcade
Notlar :
(0)
---
Açıklama :
Many enemies want to occupy your island. Can you stop them by destroying their boats and airplanes? In the game, you can use the circle to aim at the ships and shoot the cannon. You also need to predict their position and defeat them. Have fun and good luck!
Anahtar Kelimeler :
Skill, Launch, Kids, Island, HTML5, Highscore, Boy, Boat, Arcade, Android, Aircraft
Kontrol :
Tap on the screen on the mobile phone and mouse click on PC.
Yazar :
4j.com
---
Yorumlar
Yorum yazmak için lütfen giriş yapın veya kayıt olun.