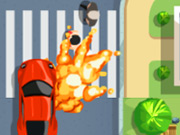 Dont Hit Me
---
Açıklama :
You drive a luxurious car and drive on a street that often appears pedestrian. When you drive, be careful not to bump into any pedestrian. Otherwise, the game will end. Watch your car don't park on the zebra crossing. There are two buttons in the game, one is deceleration, one is acceleration, and can be clicked with the mouse. Have fun with Don't Hit Me.
Anahtar Kelimeler :
Skill, Kids, HTML5, Highscore, Fire, Driving, Car, Boy, Avoid, Android, Racing
Kontrol :
Use the mouse to play.
Yazar :
4j.com
---
Yorumlar
Yorum yazmak için lütfen giriş yapın veya kayıt olun.