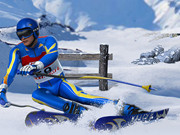 Downhill Ski
Kategori :
Sports
Notlar :
(0)
---
Açıklama :
This is an excellent game, which skiers will never miss! Use the arrow keys to control the left and right movement of the character, avoid obstacles such as rocks and fences until reach the endpoint. Take a real downhill ski show along the steep snowy mountains! If I were you, I couldn't wait to join the game! If you think this game is fun, remember to share it with your friends.
Anahtar Kelimeler :
Sports, Snow, Skill, Ski, Simulation, Obstacle, Kids, Highscore, Boy, Avoid, 3D,
Kontrol :
Arrow keys to play.
Yazar :
yiv.com
---
Yorumlar
Yorum yazmak için lütfen giriş yapın veya kayıt olun.