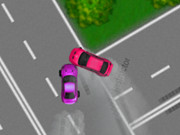 Drift Team
---
Açıklama :
Drift Team is an amazing car drift racing game. Could you ever imagine that you can control a race car to make a drift in 2D plane? You must jump into your vehicle and try to perform some epic drifts around the track! There are 3 patterns for you, practice in tracks alone, start a drift career and play a multiplayer race with your friends! It is no time for expaining and get on your car!
Anahtar Kelimeler :
Timing, Relaxation, Racing, Kids, HTML5, Highscore, Driving, Car, Boy
Kontrol :
Press WASD or arrow keys to drive, Press space bar or ctrl to use handbrake
Yazar :
nosite.com
---
Yorumlar
Yorum yazmak için lütfen giriş yapın veya kayıt olun.