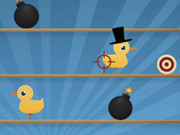 Duck Carnival Shoot
Kategori :
Arcade
Notlar :
(0)
---
Açıklama :
In the game, you shoot the ducks for points and get coins from some ducks. Of course, you can use coins to upgrade your shooting accuracy. Don't shoot the bombs to avoid being penalized. The game ends when the time runs out. Have fun with Duck Carnival Shoot.
Anahtar Kelimeler :
Timing, Platform, Launch, Kids, HTML5, Holiday, Highscore, Collecting, Boy, Bomb, Avoid, Arcade
Kontrol :
Mouse click on PC and tap on the screen on the mobile phone.
Yazar :
nosite.com
---
Yorumlar
Yorum yazmak için lütfen giriş yapın veya kayıt olun.