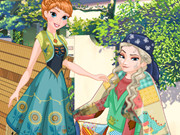 Elsa From Homeless To Diva
Kategori :
other
Notlar :
(0)
---
Açıklama :
Elsa is a homeless people, she must beg on the street to survive. Choose the right shabby clothes and signs for her. At this moment, Anna just passed by and she was very sympathetic to Elsa's experience and took her back to her home. Anna was very kind enough to help this poor tramp to bathe, makeup, and then replaced with a clean new dress. Elsa is very touched and wants to be better. Encouraged by Anna, she took a resume and got a job. In the end, she became a famous dance queen!
Anahtar Kelimeler :
School, Princess, Movie, Makeover / Make-up, Frozen, Fashion, Elsa, Dress Up, Disney, Cleaning, Cartoon, 3D,
Kontrol :
Use the mouse to play.
Yazar :
dressupwho.com
---
Yorumlar
Yorum yazmak için lütfen giriş yapın veya kayıt olun.