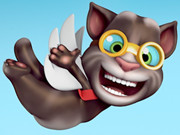 Flappy Talking Tom
---
Açıklama :
You may have played the classic game Flappy Bird, it must have left a deep impression on you. Today, our protagonist is replaced by a cute Talking Tom. Using the mouse to tap the screen to control Tom's movement, you must avoid all dangerous obstacles and try to reach further distances. The game is easy to operate but it is hard to master. Do you dare to accept the challenge?
Anahtar Kelimeler :
Talking Tom, Skill, Side Scrolling, Obstacle, Kids, HTML5, Highscore, Flight, Cat, Boy, Avoid, Disney
Kontrol :
Mouse or tap to play.
Yazar :
video-igrice.com
---
Yorumlar
Yorum yazmak için lütfen giriş yapın veya kayıt olun.