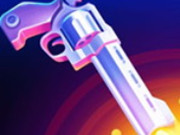 Flip The Gun
Kategori :
Atış
Notlar :
(0)
---
Açıklama :
Flip The Gun is a gun shooting game. Do you like guns? In this game, your task is to hit the screen with the mouse and let the gun fly and shoot. All you have to do is use the gun to shooting at the right time and make it fly higher. When the gun shooting, you need to collect props to keep enough bullets and get higher scores. Come and play with your friends. Have fun and good luck.
Anahtar Kelimeler :
Shooting, Kids, HTML5, Highscore, Gun, Collecting, Boy, Android
Kontrol :
Use the mouse to play.
Yazar :
yiv.com
---
Yorumlar
Yorum yazmak için lütfen giriş yapın veya kayıt olun.