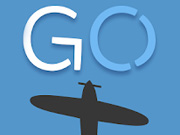 Go Plane Online
Kategori :
Sürüş
Notlar :
(0)
---
Açıklama :
Choose your strategy, Steer the plane to missiles or escape and make them destroy themselves with your driving skill. That's so cool if you can let the missiles approach but do not touch any part of your fighter and your fighter will have an invincible shield in seconds at once. Join the game Go Plane Online and have a good time.
Anahtar Kelimeler :
Skill, Plane, Kids, HTML5, Highscore, Flight, Driving, Collecting, Boy, Avoid, Arcade, Room
Kontrol :
Click and hold or tap and slide to navigate the jet fighter.
Yazar :
4j.com
---
Yorumlar
Yorum yazmak için lütfen giriş yapın veya kayıt olun.