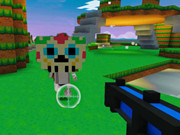 Grass Minecraft Online Battlefield
Kategori :
Atış
Notlar :
(0)
---
Açıklama :
Grass Minecraft Online Battlefield is a 3D shooting game where players need to kill all enemies and collect weapons for a limited time. You must use your weapon to protect yourself from harm. You must be anxious to start the game. Have fun playing with this fun game.
Anahtar Kelimeler :
Timing, Shooting, Shoot 'Em Up, Pixel, Multiplayer, Monster, Minecraft, Killing, Kids, HTML5, Gun,
Kontrol :
WASD to move. Mouse to shoot.
Yazar :
adventurebox.com
---
Yorumlar
Yorum yazmak için lütfen giriş yapın veya kayıt olun.