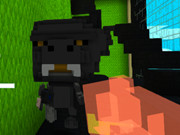 Handheld Havoc Battle
Kategori :
Atış
Notlar :
(0)
---
Açıklama :
Handheld Havoc Battle is a cool 3D pixel gun shooting game. You need to enter this world and fight with your enemies, using your gun to shoot them and stay alive. Cooperate with your teammates and win every war. Be the bravest soldier and enjoy these different guns!
Anahtar Kelimeler :
Shooting, Pixel, Minecraft, Kids, Gun, Boy, Avoid, 3D
Kontrol :
W,A,S,D to walk Spacebar to jump Shift to run Mouse to aim Mouse button to fire
Yazar :
adventurebox.com
---
Yorumlar
Yorum yazmak için lütfen giriş yapın veya kayıt olun.