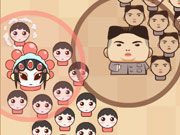 Leader War
---
Açıklama :
Can you be the boss in this war? Join the game and start to play! Run and collect followers on the map. The only way for survival is to get more and more followers. You can grab your opponents' follower from their behind before they find what you are doing. If you fail you can watch a short ad and it will come back to life. Have a great time!
Anahtar Kelimeler :
War, Timing, Multiplayer, Kids, HTML5, Highscore, Collecting, Boy, Android, .io
Kontrol :
Mouse or tap to play.
Yazar :
4j.com
---
Yorumlar
Yorum yazmak için lütfen giriş yapın veya kayıt olun.