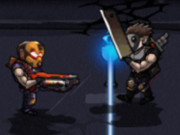 Modern Combat Defense
Kategori :
Defans
Notlar :
(0)
---
Açıklama :
Modern Combat Defense is a combat game. With this gun in your hand, you will reach the enemy opposite. When you kill an enemy, it turns into a gold coin and collect it and buy equipment. Have fun.
Kontrol :
Use the mouse to play.
Yazar :
kiz10.com
---
Yorumlar
Yorum yazmak için lütfen giriş yapın veya kayıt olun.