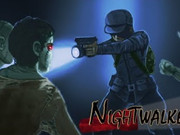 Nightwalkers
Kategori :
Atış
Notlar :
(0)
---
Açıklama :
Nightwalkers is an online zombie survival game. You need to survive in a world full of zombies by working with other players to kill zombies. Use the various weapons in your hands to shoot them to protect yourself. Responsiveness, courage, and a spirit of cooperation are all key factors for success. If you are brave enough, don't hesitate to join this amazing shooting game!
Anahtar Kelimeler :
Zombie, Undead, Tank, Shooting, Multiplayer, Monster, Killing, Kids, HTML5, Gun, Boy,
Kontrol :
Movement is done by mouse. Left mouse button to fire.
Yazar :
nosite.com
---
Yorumlar
Yorum yazmak için lütfen giriş yapın veya kayıt olun.