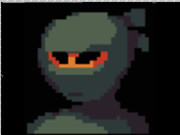 Ninja Vs Slime
Kategori :
Fizik
Notlar :
(0)
---
Açıklama :
Ninja Vs Slime is a fun shooting game, you will play as a ninja and your mission is to vanish the slime as much as you can, there will be endless slime falling from the sky, each one of them has an original number on it, shoot your shurikens out and try to hit more slimes, every hit can reduce one dot of the slime, when the number turns to zero, the slime will vanish and you will get extra shurikens, if you haven't cleared the slime until it reaches the land, the game will be over, hope you can get a high score. Have fun!
Anahtar Kelimeler :
Physics, Ninja, Kids, HTML5, Highscore, Boy, Bounce, Android, Launch, Skill
Kontrol :
Use the mouse to play.
Yazar :
yiv.com
---
Yorumlar
Yorum yazmak için lütfen giriş yapın veya kayıt olun.