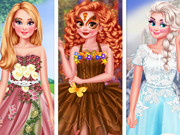 Princesses Of The 4 Seasons
Kategori :
girl
Notlar :
(0)
---
Açıklama :
These 4 Disney princesses like different season, now they decide to certain season dress. Dress them as princesses in spring, summer, autumn and winter, and make their dreams come true. You will find the most amazing clothes in your wardrobe, as well as unique and magical jewelry and accessories. Have fun!
Anahtar Kelimeler :
Princess, Movie, Makeover / Make-up, Kids, HTML5, Girl, Frozen, Fashion, Elsa, Dress Up, Disney, Cartoon, Android
Yazar :
capy.com
---
Yorumlar
Yorum yazmak için lütfen giriş yapın veya kayıt olun.