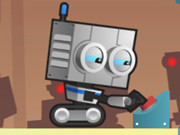 Robbie
Kategori :
Defans
Notlar :
(0)
---
Açıklama :
You need to help Robbie find the right exit, and the game wins.On the way to the exit, you'll meet Rustie. He's an abandoned robot that will stop Robbie from going out. You need to defeat Rustie.You can also use props to help Robbie. Good luck to you with Robbie.
Kontrol :
Use the mouse tap with your finger to play.Hold down the mouse and drag the game screen.
Yazar :
kizi.com
---
Yorumlar
Yorum yazmak için lütfen giriş yapın veya kayıt olun.