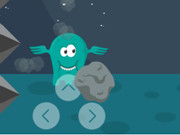 Space Run
Kategori :
other
Notlar :
(0)
---
Açıklama :
Space Run is a relaxation avoid game. All you need to concern in this game is to escape from the meteorites, such as different kinds of moving rocks and flying rockets from the right side. Could you get the highest score? But watch out, remember to stay away from the left sharp nails.
Anahtar Kelimeler :
Space, Running, Relaxation, Highscore, Avoid, Alien, Android, GameDistribution
Kontrol :
PC Keyboard A,W,D to control left, jump, right. Mobile touch the button to control.
Yazar :
gamedistribution.com
---
Yorumlar
Yorum yazmak için lütfen giriş yapın veya kayıt olun.