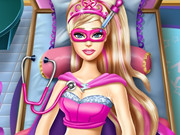 Super Doll Emergency
Kategori :
girl
Notlar :
(0)
---
Açıklama :
Super Doll Barbie is injured in a fight with bad guys, now she needs your help to take a surgery and save her life. She feels bad now, you need to wipe the dirt on her body, check her situation and take a sugery for her. She will be so grateful for your help, have fun!
Anahtar Kelimeler :
Surgery, Princess, Movie, Kids, HTML5, Girl, Doctor, Cartoon, Barbie, Android
Yazar :
agnesgames.com
---
Yorumlar
Yorum yazmak için lütfen giriş yapın veya kayıt olun.