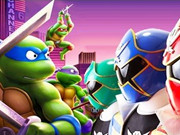 Tmnt Vs Power Rangers: Ultimate Hero Clash 2
Kategori :
action
Notlar :
(0)
---
Açıklama :
Do you want to punish the evil monsters with young ninja turtle? Now the opportunity is coming! They are righteous ninjas who need to defeat evil monsters to save humanity. Choose your favorite ninja and use your great skills to defeat the bad guys in turn. This game is a free street fighting game, in which you can also choose to play against your friends to see who is the best one. Good luck and have fun.
Anahtar Kelimeler :
Sword, Street Fighting, Skill, Ninja, Movie, Monster, Killing, Kids, HTML5, Fighting, Boy,
Kontrol :
ZX attack. Arrow keys to move.
Yazar :
nosite.com
---
Yorumlar
Yorum yazmak için lütfen giriş yapın veya kayıt olun.