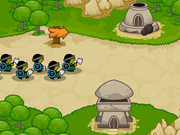 Tower Defense 2
Kategori :
Defans
Notlar :
(0)
---
Açıklama :
Tower Defense 2 is a defensive game. There are countless enemies invading your home right now, and you will build towers as a defense to kill your enemies. There are many different weapons in the tower that can be used. You can choose the game level. Good luck.
Anahtar Kelimeler :
Tower Defense, Killing, Kids, HTML5, Defense, Boy, Android
Kontrol :
Use the mouse to play.
Yazar :
nosite.com
---
Yorumlar
Yorum yazmak için lütfen giriş yapın veya kayıt olun.